The Pharaoh Returns (or) Restoring Like an Egyptian
September 20, 2011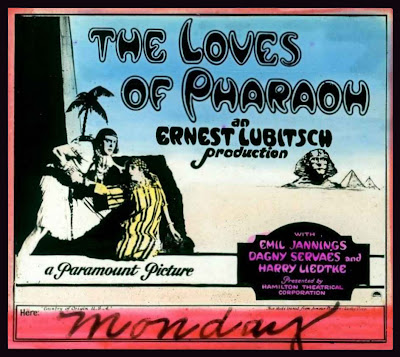 It's not often that I have the opportunity to share a coming attraction slide for the express purpose of actually advertising a coming attraction, but today that is indeed the case. I'm talking of course about the brand new restoration of Ernst Lubitsch's 1922 epic The Loves of the Pharaoh.
Last month I had the pleasure of viewing an advance screening at the Reel Thing symposium in which Thomas Bakels of ALPHA-OMEGA presented the details of the project.  Those of you in the know may remember ALPHA-OMEGA as the folks that did the technical work on the Metropolis restoration that we all so recently thrilled to.
For decades The Loves of the Pharaoh had been counted among the lost until the 1970s when a fragmentary print surfaced in the Russian Gosfilmfond archive. In subsequent years additional material has come to light, making possible this fuller reconstruction.
Like their restoration of Metropolis, the film has received a full digital restoration treatment, including recreation of the original tinting scheme. To my eyes they may have actually gone slightly overboard with the digital cleanup, resulting in an image so clean and a frame so stable that the "print" no longer looks like film. However, that is but that it a minor quibble compared to thrill of witnessing this important title's return from the grave.
For those of you that will be in or around Los Angeles on October 18, you won't want to miss the U.S. theatrical premiere at (appropriately) the Egyptian Theater on Hollywood Boulevard. For those of you in more distant lands, ALPHA-OMEGA is also planning BluRay and DVD releases this fall, but if you can make the trip to see it on the big screen I promise you won't be disappointed.
You can read more about the film and its restoration on the ALPHA-OMEGA web site, it's definitely worth the read.
SilentRobert says "check it out."