About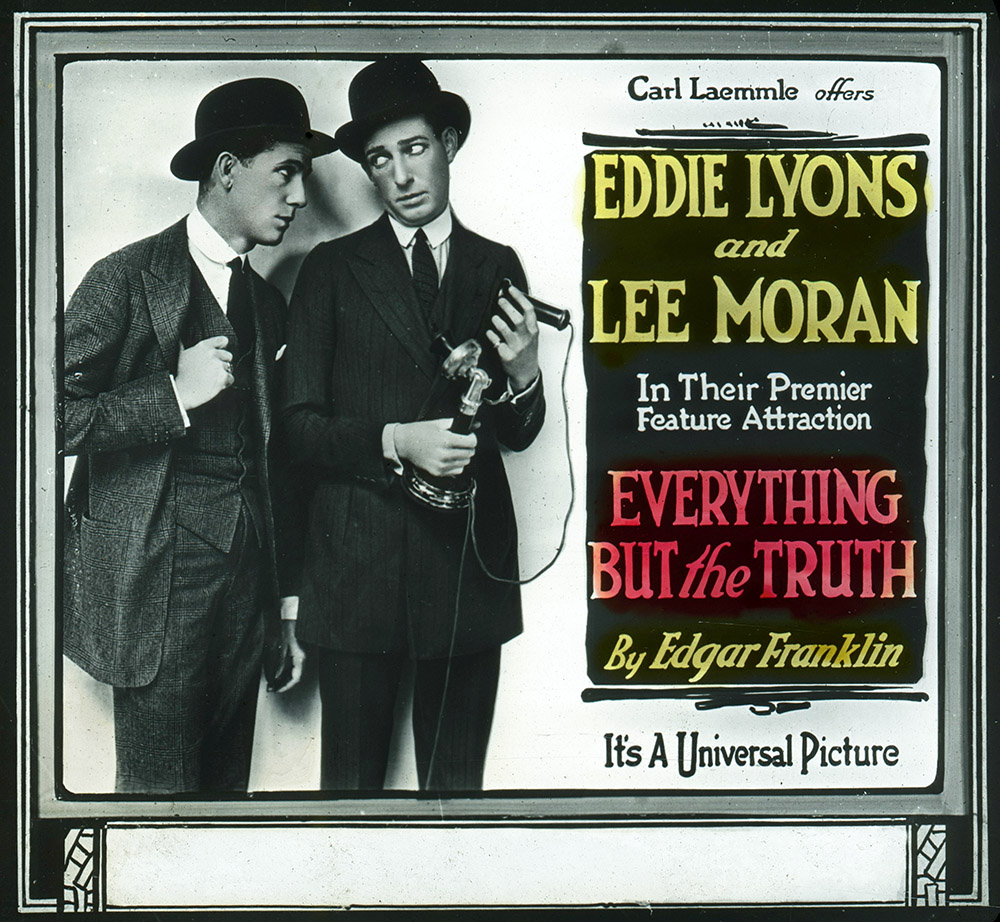 This website is manifestation of my decades-long obsession with the jewel-like colorful glass transparencies that were once used to advertise motion picture coming attractions. I still remember seeing my first slide, holding it up to the light and absorbing the vibrant hand-painted colors.
From that point onward I have sought to learn more, hoping to answer the basic questions that everyone asks. There was, and still is, very little formal literature or research related to cinema slides. What information there is mainly circulates as lore passed around a small but enthusiastic community of collectors.
My intent with the first incarnation of Starts Thursday! was to serve as a platform for researching and publishing evidence-based information. Looking back, I am still reasonably satisfied with the information that was published. Some of the information has been superseded or proven to be incomplete or inaccurate, but for the most part it isn't bad. You'll find it all in the Archive section.
Since then, it has been my mission to locate, scan, catalog, and share as many examples and variations that I can reasonably locate. My goal is not only to capture high-resolution scans of image content, but to also record the metadata associated with each physical slide object. I have collected this information to aid my own research, but also in hopes that it will be useful for other researchers and enthusiasts.
Acknowledgements
Starts Thursday! would not have been possible without the people and institutions who shared their time, knowledge, skills, and expertise, and so generously provided access to their collections.
Topping the list is Frank Buxton, who shared with me his collection as well as the vision of making these images available.
I owe a debt of gratitude to the collectors who generously provided access to their collections and who allowed me to scan and catalog their treasures. Many thanks to: Anonymous, Rob Brooks, Tracey Goessel, Donna Hill, John Hillman, Mark Johnson, Bob Krijger, Neil Maciejewski, Ed Martin, Glenn Miranker, Jessica Rosner, Ned Thanhouser, Matt Vogel, John Durr Wise, and Joe Yranski.
Just as indispensable have been the institutions whose collections I researched, and some of whom granted access for me to scan: The Cinema Museum, Cleveland Public Library, Eye Filmmuseum, George Eastman Museum, Irish Film Institute, Library of Congress, Margaret Herrick Library, Mitchell County Museum, Museo del Precinema, Museo Nazionale del Cinema, New Zealand Film Archive, Niles Essanay Silent Film Museum, and Thanhouser Company Film Preservation.
Thanks also to the individuals who provided help, support, and assisted my research in so many different ways: Soeluh van den Berg, Dorothy Bradley, Kevin Brownlow, Donata Pesenti Campagnoni, Rebecca Grant, Ron Grant, Barbara Hall, Martin Humphries, Nancy Kauffman, David Kiehn, Mike Mashon, Ben Model, Francesco Modolo, Ann Olszewski, Jenny Paxon, Steven Richardson, Michael Ruffing, Zoran Sinobad, Rob Stone, and Tanya Strauss.
Immense gratitude to Kathy Rose O'Regan and George Fox for their many hours toiling over a hot scanner, and to Hay Kranen and Wendy van der Waal who designed and implemented this website.
And most importantly, to Chris who has patiently put up with this nonsense for so many years.
Robert Byrne