A Star (System) is Born
July 25, 2010
Coming attraction slides were not used only to promote specific films. With the emergence of the Hollywood star system, studio advertising increasingly leveraged the drawing power of their performers. According to researcher Mitchell A. Flagg "By 1909, picture personalities began to appear in films, either using their own names or names the public assigned to them... film companies built brand loyalty through product individuation—the recognition and identification of an actor from film to film."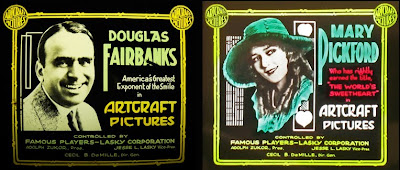 Film historians today recognize Florence Lawrence as the first publicly recognized movie star. Lawrence first appeared on screen in 1906 and over time became exceptionally (though anonymously) popular with a public that knew her only as "The Biograph Girl," known only by her nickname since at the time actor's names were not credited in film titles nor divulged by the studios. This all changed in 1910 when Carl Laemmle founded his IMP (Independent Moving Pictures) Company in 1910. To stir publicity for his new studio, Laemmle, who had just hired Griffith away from Biograph, started a rumor that she had been killed in a streetcar accident. Days later he announced to everybody's relief she was still alive, and would soon be appearing in IMP productions. Overnight everyone knew her name, and as legend has it, the star system was born.

The emergence of the star system is also evident in lantern slides of the silent era, particularly in the late 1910s. While most coming attraction slides promote specific film titles, it is not uncommon to find studio issued slides directly promoting star personalities.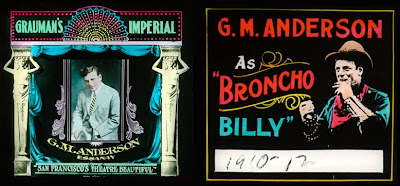 The practice of using slides to promote individual stars appears to have run its course by the the early 1920s. I have approximated the dates on these examples based on the years the performers were under contract to their respective studios. Considering the stylistic similarities of the Artcraft and Paramount samples, it seems reasonable to assume they were produced in roughly the same time frame, probably around 1917-18. The G.M. Anderson slides are somewhat more difficult to date. Anderson starred in his "Broncho Billy" westerns from 1911 to 1916, but given that I have discovered no motion picture advertising slides prior to 1913, it seems reasonable to assume that these two slides were produced some time between 1913 and 1916.