"Big Rock's Last Stand" Pushes Back the Envelope
November 22, 2010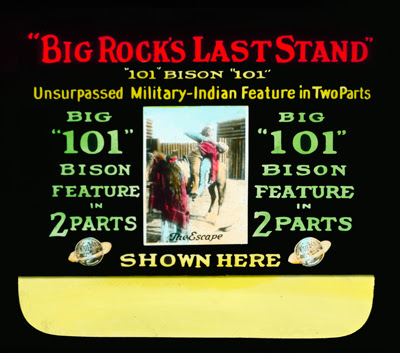 This week I was very excited to locate today's featured slide (I know, I need to get a life). What makes this advertisement so noteworthy is the film's release date, December 3, 1912, which makes it the earliest motion picture coming attraction slide I have yet to discover. Hitherto the earliest film advertising slide I have been able to locate is Caprice starring Mary Pickford which was released November 10, 1913, almost a full year after Big Rock's Last Stand.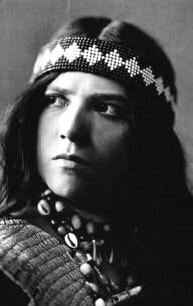 Big Rock's Last Stand was directed by Frank Montgomery, and starred a cast including: Mona Darkfeather, William Bertram, Virginia Chester, Artie Ortego, Roy Watson, and Jane Keckley. Montgomery is credited with directing 82 films but also had experience on the other side of the lens, appearing as an actor in 28 films. His leading lady for Big Rock's Last Stand also just happened to be his wife, Josephine Mercedes Workman who worked under the stage name Princess Mona Darkfeather.
Returning to the slide, I am impressed with its detailed color and graphic sophistication. Not only are three different colors used to highlight the text, the detailed coloring in the central photo as well as the Bison studio logos are quite precise. Generally it is not uncommon for hand-colored slides to use only one or two colors to tint an otherwise black and white image, but in this instance there are five: yellow, green, blue, brown, and two shades of red.
Another notable, though unsurprising, feature of the slide is that it makes no mention of the producer, director, or stars. This is not unusual since 1912 marked just the very beginning of the star system. In many of these earliest advertisements it is usually the studio brand that figures most prominently. One of my current research topics is to plot a general time-line for the evolution of title credits on silent era slides, but we'll save that conversation for another day...
To learn more about Bison Motion Pictures and Bison 101 Features, the following excerpt from Tim Dirks AMC filmsite should help fill in the blanks:
One of the earliest trail-blazing industry's innovators was producer/director Thomas Harper Ince (1882-1924), whose major claims to fame were the making of crude westerns and the development of the "factory-studio system" to mass produce films. After a short stint at Biograph as an actor and director, he joined Carl Laemmle's Independent Moving Picture (IMP) Company, and moved west to California in 1911. The New York Motion Picture Co. and the Selig Polyscope Film Company of Chicago set up studios near Los Angeles in Edendale [present-day Echo Park], initiating the establishment of West Coast studio production.

Ince supervised the New York Motion Picture Company-owned subsidiary Bison Company, or Bison Life Motion Pictures. It became a studio/ranch that specialized in westerns when, in 1912, his Bison Company production studios purchased the Miller Brothers 101 Ranch and the Wild West Show to use their props and performers for his assembly-line, mass-produced films, and was renamed Bison 101 Company. The Bison Company studios, also became known as Inceville, after he bought about 20,000 acres of seacoast land in Santa Ynez Canyon and the surrounding hills.

He developed a system of advanced planning and budgeting, and shot his films from detailed "shooting scripts" (that broke down each scene into individual shots). It became a prototype for departmentalized and specialized Hollywood film studios of the future, with a studio head (or boss), directors, managers, production staff, and writers all working together under one organization (the unit system). This pattern or system was best typified by the organizations formed by David O. Selznick and Samuel Goldwyn. Ince's best known film production was the anti-war film Civilization (1916) with frequent director-collaborator Reginald Barker. In the early 1910s, famed director John Ford's older brother Francis was directing and starring in westerns in California for producer Ince, before joining Universal and Carl Laemmle in 1913.

Thomas Ince decentralized and economized the process of movie production by enabling more than one film to be made at a time (on a standardized assembly-line) to meet the increased demand from theaters, but his approach led to the studio's decline due to his formulaic, unfresh, mechanized, and systematized approach to production.

His studio reinvigorated the Western film genre. Ince's authentic-looking pictures were due to the fact that he used actual props and hired real-life cowboys and Indians from the Miller Brothers' 101 Ranch and Wild West Show as extras in his films. In 1914, he was responsible for launching the career of William S. Hart, an actor who starred in dozens of westerns until 1925. In 1915, he joined D. W. Griffith (of Griffith Fine Arts Studio) and Mack Sennett (of Keystone Pictures, see below) to form the Triangle Motion Picture Company (aka the Triangle Film Corporation) (with a studio on Sunset Boulevard) [...]

After the Great War, Ince broke off from Triangle and joined competitor Adolph Zukor to form Paramount/Artcraft, and Ince also built another studio (named Thomas H. Ince Pictures) in Culver City. When his association with Zukor ended in 1919, he joined an independent film alliance named Associated Producers, which later merged in 1922 with First National. Filming ceased at the Inceville property around 1922 and the buildings burned to the ground in 1924.