Directors Get Into the Picture
October 22, 2010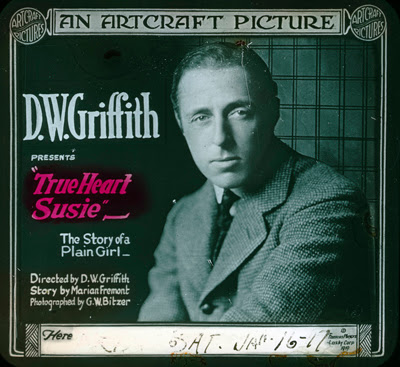 Of all the great directors of the silent era, none was more visibly exploited in slide advertising than David Wark Griffith.
As early as 1919 it was not uncommon to find his profile prominently featured on slides promoting his films [also see D.W. Griffith Meets the Mystery Woman, Sept. 16, 2010].
Of course major directors were often featured prominently in the advertising materials for their films, but generally their stature was signified exclusively by the size and grandeur of the typeface devoted to their name.
For an example of such typographical bombast, one need look no further than Cecil B. DeMille who's name dwarfed even the title as well as that of any actor or contributing artist.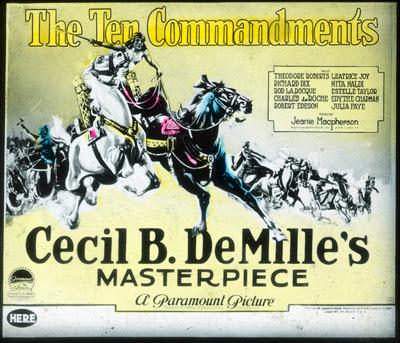 When it comes to photographs however, D.W. Griffith reigned supreme.
In many cases marketing departments apparently believed that Griffith's noble Roman profile would be more attractive to prospective audiences than the fair likenesses Lillian Gish, Mae Marsh, or any other star under his direction.
Perhaps even Griffith himself insisted on being pictured. Having started his career as a stage actor, and as one who appeared in numerous early films before moving behind the camera, it's not unreasonable to assume that Griffith at least encouraged the incorporation of his image in promotional materials.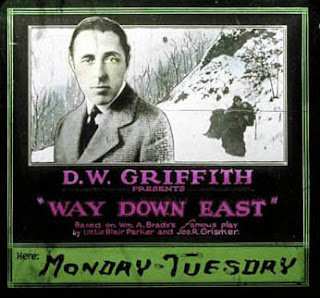 In the category of directors appearing in advertising slides, the only situation in which Griffith is eclipsed is where the director is also the star of the film.
Charlie Chaplin and Erich von Stroheim are both prominent in this regard, with Chaplin clearly leading supreme.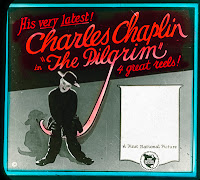 Chaplin began directing his own films in 1914 and may not actually appear on any slides in which is is not the director (I have yet to find a slide featuring Chaplin from his Keystone years).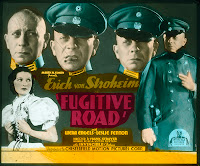 Stroheim, on the other hand, can be found in promotional materials from his years as a combined actor/director as well as in productions in he worked exclusively as a performer. In all cases such as these, Chaplin and Stroheim consistently appear on the slides in costumer, make-up, and character for their acting role, not as an advertisement for their directorial role. Promotional departments knew quite well that people went to the cinema to see Chaplin on the screen - not to admire directorial acumen.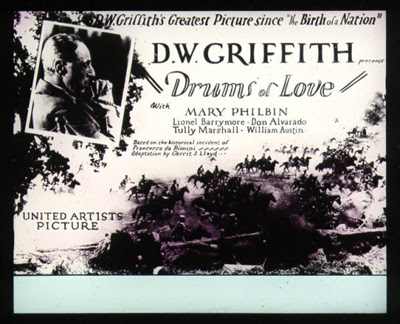 Barring the exception of special cases of actors/directors, it appears certain that no director was pictured more often in coming attraction slides than D.W. Griffith. However Griffith was not the last director whose visage came to be identified with his productions. Fast-forwarding to more modern times, Alfred Hitchcock exceeded even Griffith in using his iconic profile as a branding trademark for his productions.