Dorothy: The (Almost) Forgotten Gish
December 23, 2010
It give me great pleasure to introduce today's guest contributor: Donna Hill. Donna is good friend of STARTS THURSDAY! and has recently published a wonderful volume on Rudolph Valentino, Rudolph Valentino The Silent Idol. She recently embarked on a new research project on Dorothy Gish, who just happens to be the subject of today's article.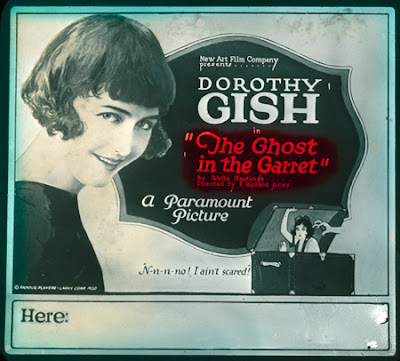 Sometimes a glass slide is all we have of a film and in some very sad cases all that's left of a film career for a particular player. If not the entire filmography, large chucks of some filmograpies are gone with the wind. Take the case of Dorothy Gish as an example.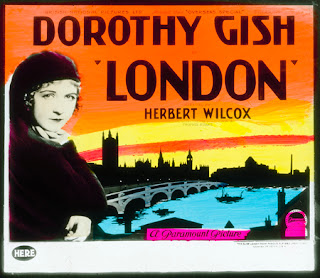 Dorothy Gish was the no less talented younger sister of Lillian Gish. The Gish sisters came to film at the same time. Both developed their talent and screen presence under the tutelage of D.W. Griffith. Both became well known and beloved film stars in the later teens and 1920's. Today, Dorothy is very nearly forgotten and when one hears the name Gish, it is Lillian the person is speaking of.
As her career progressed, Dorothy quickly veered off D.W. Griffith's radar, in a sense, as she was a very talented comedienne. Griffith had little feel for comedy and assigned her films to other directors once he and his company of players moved to Triangle from Biograph. Griffith was "supervisor" but one doubts his role in this regard, except in name only. Dorothy's popularity at the time cannot be underestimated. She was offered $1,000,000 to join Paramount and turned it down reportedly out of loyalty to Griffith.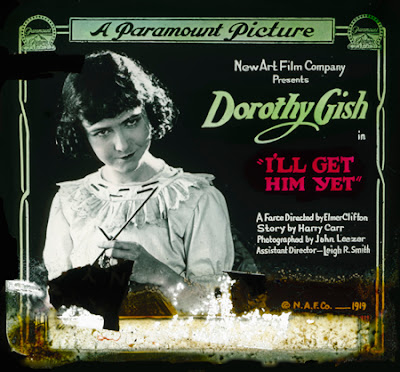 Later on, in between 1918 and 1920 she made a series of comedies that were very popular and money makers. Released through Paramount/Artcraft films such as Peppy Polly (1919), Boots Remodeling Her Husband (1920) and Flying Pat (1920) made Dorothy a popular star. We cannot judge these films since every single one of them is now lost. What a tragedy this is.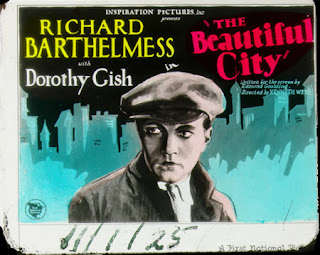 The few films Dorothy made that survive offer only a glimpse of the talented actress and comedienne she was. She is charming and spunky in Gretchen the Greenhorn (1916) and moving and understated as Louise in Orphans of the Storm (1921). One hopes that more of Dorothy's films may turn up somewhere, some place. Remodeling Her Husband is one high on the list given that it is also the sole directorial credit for Lillian Gish. Flying Pat is also high on the list since the extant stills are a delight.
In the meantime, we must make do with the tantalizing images that remain, like the colorful glass slides.
--- DONNA HILL
Donna Hill is a lifelong fan of silent film and classic film in general. She has maintained a fan website for Rudolph Valentino (www.rudolph-valentino.com) since 1997. Her book Rudolph Valentino The Silent Idol was published in 2010 and is available at www.blurb.com/my/book/detail/1644955.
Donna lives in San Francisco and is currently researching the life and career of Dorothy Gish.
Slide image for The Beautiful City courtesy of Cleveland Public Library.