Gloria Swanson Heads for Buenos Aires in "My American Wife"
October 1, 2011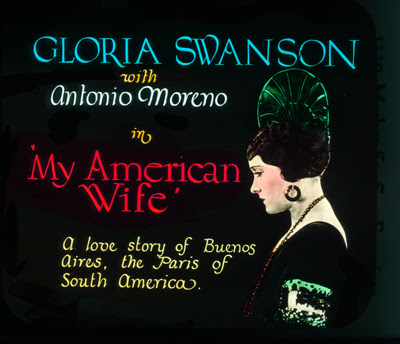 I'm back today with two custom venue-produced slides for the 1922 feature My American Wife, starring Gloria Swanson and Antonio Moreno. In addition to their uniqueness, one thing I like about one-of-a-kind custom produced slides is that, unlike their studio produced brethren, they are that they are uniquely associated with a particular venue and presentation.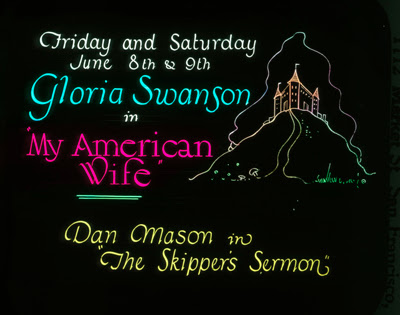 In the case of My American Wife, these two slides came from a collection accumulated from venues in Oakland, California. The sides themselves were manufactured across the bay in San Francisco, by the Art Slide Studio located at 964 Market Street.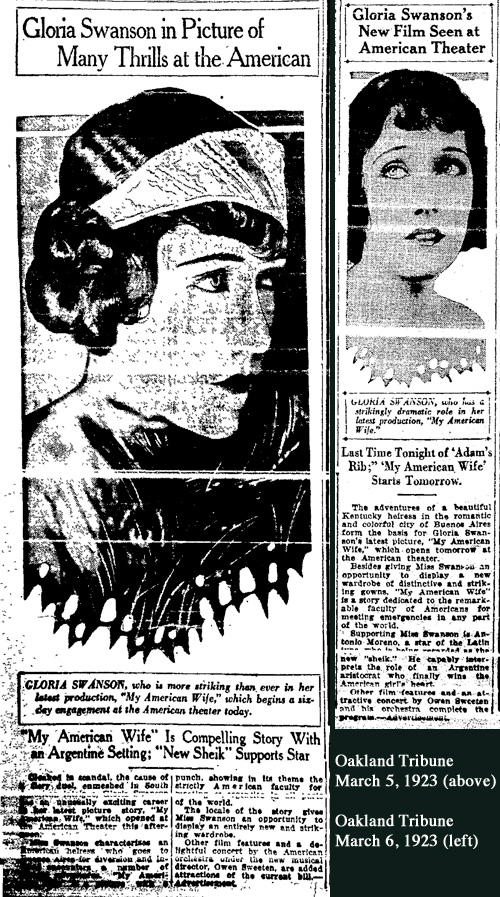 Gloria Swanson was the marquee name for the feature, but it is interesting to note how the sponsored newspaper "articles" tout the "handsome and of course... dark Latin type" of Antonio Moreno. My American Wife was released not long after Rudolph Valentino's triumph in Blood and Sand (1922), so the studio's intent to build Moreno up as the "new and more dashing 'sheik'" comes as no surprise.
Most online sources also lack even a plot summary of the film, which I reproduce here from the Oakland Tribune (March 7, 1923) account:
In "My American Wife," he [Moreno] has the role of a young aristocrat of Argentine [sic] who becomes enamored of a beautiful Kentucky heiress [seriously?], portrayed by Miss Swanson."
Of course the plot is important, but more critically - What is she wearing?
This vital information is provided by another Oakland Tribune advertorial (March 6, 1926) which notes that "The locale of the story gives Miss Swanson an opportunity to display an entirely new and striking wardrobe."
...and that's why our Kentucky heiress really finds herself in Buenos Aires.
Alas, My American Wife is a "lost" film, and no prints are known to survive. The only glimpses we can hope to have of Miss Swanson's glorious costumes must come by way of surviving still photographs, and of course, glass slide advertisements.
And the Art Slide Studio? It too is lost. The building is now a check cashing establishment, and its location on Market Street is unfortunately is one of the more blighted stretches of the once grand boulevard.