Happy Birthday Baby Peggy!
October 29, 2011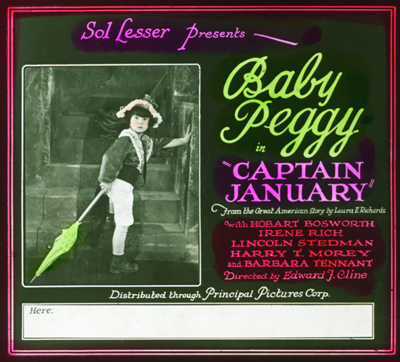 Today we take a special time-out to wish HAPPY BIRTHDAY! to Diana Serra Cary, known to her fans as Baby Peggy. Peggy-Jean Montgomery was born 93 years ago on this date, October 19, 1918 and appeared on screen as Baby Peggy a just scant 19 months later.
Baby Peggy was one of the first child actor mega-stars. In 1924 she signed a $1,500,000 contract with producer Sol Lesser's Principal Pictures, and Captain January (1924) was first her first release as the "Million Dollar Baby." Over the course of her well chronicled career (if you haven't read her autobiography Whatever Happened to Baby Peggy? you really should) Diana appeared in more than forty shorts and nine features, most of which are now thought to be lost.
Last year Diana was gracious enough to write about the filming of her first feature, The Darling of New York (1923) in one of STARTS THURSDAY's first guest articles
...and Diana isn't finished yet. She is the subject of a brand new documentary, Baby Peggy, The Elephant in the Room, which has been screening at selected festivals and venues this summer. It's a wonderful portrait and one not be missed if you get the chance.
Happy Birthday Diana!
Take a deep breath and blow out those candles!