"Headin' South" with Douglas Fairbanks
August 31, 2010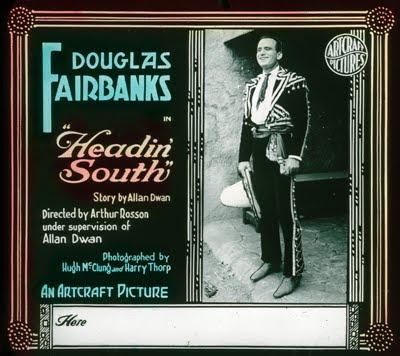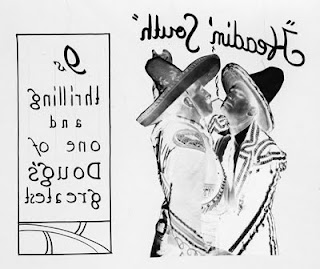 While researching the slide collection at the Margaret Herrick Library, I came across the negative for a hand-made photographic slide advertising the early Douglas Fairbanks feature Headin' South (1918).
The negative caught my eye because I remembered seeing the studio produced poster for the film and there seemed to be a distinct similarity between image on the slide and my memory of the artwork on the poster. From this I jumped (incorrectly) to the conclusion that the negative for the slide had been produced by photographing the poster art.
Later, taking a closer look, I confirmed that the slide is indeed based on the same graphic as the poster but what I failed to notice on my initial examination was that despite their similarity, the image on the slide is not a reproduction of the poster art.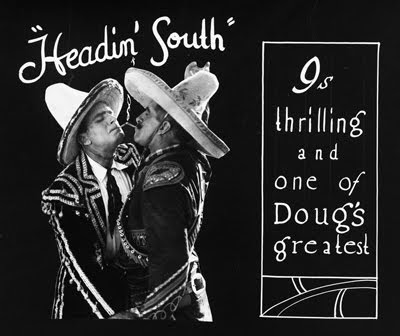 Notice that the image on the poster (a beautiful full-color stone lithographic print) is a artist's rendition of the two men grappling. Conversely, the image on the slide is an actual photograph. (Look at the faces and the difference is obvious.)
Where at first I had assumed that the slide was based on the poster, the obvious conclusion seems to be that the slide, as well as the poster, are based on a separate original source - most likely a still publicity photograph.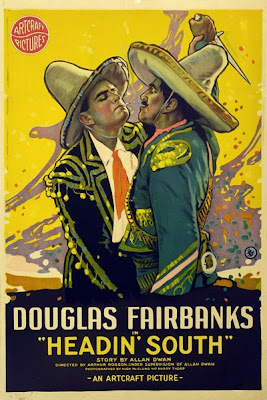 While the representations of the two figures in the slide and poster are identical in almost every respect, for some reason the knife in Frank Campeau's hand (the man on the right) has been crudely cropped out of the slide photograph.
Was the knife excised due to a specific editorial reason? It doesn't appear that its removal was necessary in order accommodate text or other graphic elements.
Interestingly (at least to me), the absence of the knife in the slide provides more leeway for interpretation.
In the poster, it is clear that the men are fighting.
But in the slide?
Perhaps they are dancing The Tango.
Hand-made slide images for this article courtesy of the Academy of Motion Picture Arts and Sciences.