Heading Down to the Sea for Clara Bow's Birthday
July 29, 2012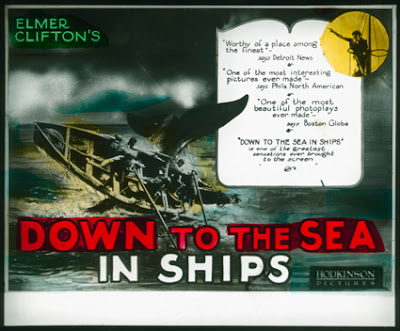 Starts Thursday! celebrates Clara Bow's 107th natal anniversary with the coming attraction slide from her first screen appearance, Elmer's Clifton's whaling adventure Down to the Sea in Ships (1922).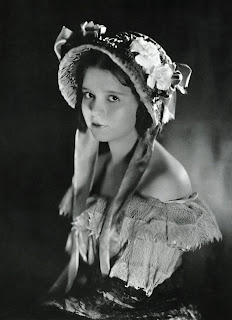 Strictly speaking, Down to the Sea marks the first time the future It Girl appeared on the screen, but it was not her first part in a film. That distinction goes to Beyond the Rainbow (1922), a cast-heavy drama which featured sixteen major characters, including Bow. While editing the film, director Christy Cabanne streamlined the film's complicated plot and slovenly pace by completely excising several actors from the film, including Clara.
Oops!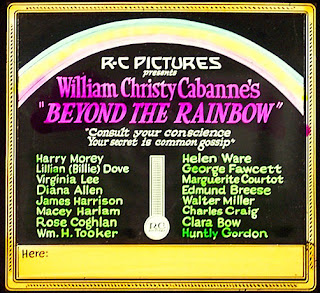 Subsequently, and unsurprisingly, when Bow rose to startdom, Beyond the Rainbow was re-cut and reissued in hopes of taking advantage of her box office appeal.
Bow is absolutely charming in Down to the Sea in Ships, effectively stealing the scene in every frame in which she appears.
David Stenn describes how Clara got the part in his excellent biography Clara Bow, Runnin' Wild:
"She was ideal for director Elmer Clifton, who was casting a low-budget whaling saga [...] In need of cheap talent, Clifton noticed the Fame and Fortune Contest winner in Motion Picture Classic, liked her youthful look, and summoned her for an interview. When Clara arrived, Clifton could not believe his eyes: where was the merry girl from the magazine photo? In a misguided attempt to anticipate his needs, Clara had borrowed a dress and worn heavy makeup. Clifton took one look at her and said she was too old for the part.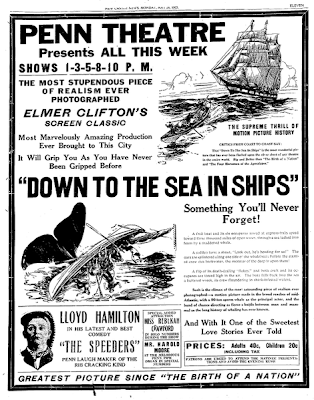 Clara was frantic. "I'm only sixteen!" she cried. The director smiled and shook his head. He did not believe her.
Clara rushed home and returned to Clifton's office in her shabby clothing and a scrubbed face. Her gumption and unadorned appeal led the director to hire her for a two-week tial period at a salary of thirty-five dollars a week.
On location in New Bedford, Massachusetts, the two weeks [the duration of Bow's initial try-out contract] stretched into thirteen as Clifton, impressed by Clara's instinctive talent, padded her role as Dot Morgan, the bland heroine's tomboyish kid sister. Dot was a character Clara could related to: the spunky, chunky girl who beats up boys her ange, then masquerades as one when stowing away on a whaler to escape her repressive Quaker family. Her also provided the stodgy film with welcome comic relief."
And the rest is history...
Down to the Sea in Ships is available in a nice DVD edition from Kino Lorber.