Hollywood Does Its Part
December 19, 2010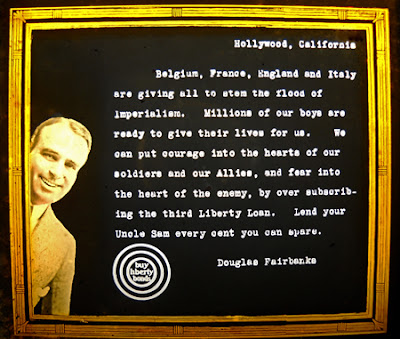 In 1917 and 1918, the United States government issued Liberty Bonds to help finance the war effort. An aggressive promotional campaign organized by Secretary of the Treasury William Gibbs McAdoo pushed the bonds through patriotic appeals using print, posters, buttons, and (of course) theatre advertising. Celebrities and Hollywood stars lent their star power to the cause, with Al Jolson, Elsie Janis, Mary Pickford, Douglas Fairbanks and Charlie Chaplin among the celebrities that made public appearances.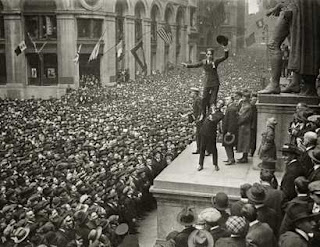 Probably most successful (and certainly the most highly publicized) of these star efforts were rallies featuring filmdom's three most popular personalities: Douglas Fairbanks, Mary Pickford, and Charlie Chaplin. Traveling together by train, they appeared together at rallies that drew throngs at every stop.
[The website Critical Past hosts a very nice video of the the three appearing in Washington D.C. during the Fourth Liberty Loan Drive. Click HERE to check it out.]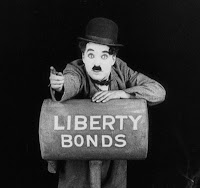 Chaplin also created a short film The Bond (1918) at his own expense. The film included members of Chaplin's company Albert Austin and Edna Purviance, and featured Chaplin's brother Sydney as the Kaiser who Charlie pounds to defeat in the end using a "Liberty Bonds" mallet.
The combination of patriotic appeal and Hollywood glamor appear to have been a potent component of the government's strategy. The second, third, and fourth bond issues were all over-subscribed, and the bond campaigns overall raised a combined $21.5 billion for the war effort. While it isn't possible to directly attribute bond sales to specific elements of the promotional campaign, it is clear that when it came to selling the war effort, Hollywood definitely "did it's part."
Douglas Fairbanks slide courtesy of the Goessel Collection.