Introducing Alice Calhoun
November 20, 2010
It is my great pleasure to introduce Susann Gilbert, biographer and cousin (!) of silent star Alice Calhoun. Though her filmography lists more than fifty titles, Alice Calhoun's name may not be immediately recognizable to modern audiences. For those of you unfamiliar with Calhoun's work, Susann's article should serve as a welcome, and long overdue, introduction - and if you already know Alice Calhoun, you're sure to learn at least one thing that you didn't know before...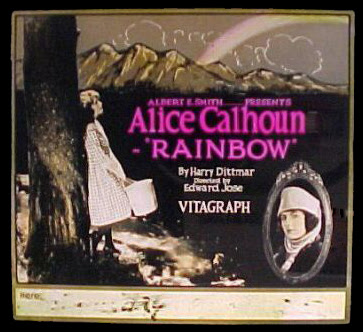 Alice Beatrice Calhoun (nicknamed "ABC") was born in Cleveland, Ohio at the dawn of the twentieth century on November 21, 1900.
Most of Alice's movies were melodramas based on literary works, such as Booth Tarkington's Pulitzer-prize winning novel, The Magnificent Ambersons (filmed as Pampered Youth), or short stories, such as O. Henry's final, unfinished story, The Dream, filmed as a two reel short. Gifted with beauty, athleticism, and versatlity, she also played roles in various genre including slapstick and westerns. Her most famous role was in the 1922 Vitagraph production of The Little Minister, and the author of the original play, Sir James M. Barrie, called her "the perfect Lady Babbie".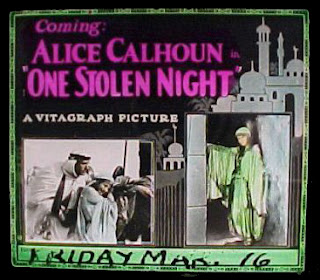 While Alice did play her share of the day's helpless waifs and hopeless romantics in melodramas, she also starred in mysteries and adventures, playing strong, action-motivated roles. One of her legacies is her modern-themed starring roles, portraying successful, educated women. She was also a very skilled comedienne. Alice's co-stars were equally famous. She worked with Anna Q. Nilsson (Between Friends, Flowing Gold), Sydney Chaplin (The Man On the Box), Cullen Landis (The Midnight Alarm, Pioneer Trails, Masters of Men, Pampered Youth), Ben Alexander (Pampered Youth) Alan Hale, Sr. and John Bowers (Code of the Wilderness), William Fairbanks (Flying High), Oliver Hardy (in two rare dramatic roles in Little Wildcat and One Stolen Night) and even Rin Tin Tin (A Hero of the Big Snows).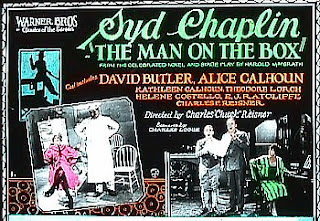 Alice was a hard-working actress and regarded as highly professional by her peers. Her mastery of melodrama technique was widely admired. She was nicknamed "The Girl of a Thousand Faces" for her versatility and ability to fully immerse herself in a role. Most of her films were successful not because of their plots, which were often tired, but because of her charm, and that quality made her films very popular. There was a darling naiveté to her work that was vivid, gutsy, human, and sentimental. She had an active fan club, and was well-known for answering correspondence from her many fans, even years after she had retired from acting.
From 1918 to 1934, she appeared in 52 films (two sound and the rest silent), and one documentary. Her final film was Now I'll Tell, and co-starred Spencer Tracy, Alice Faye, Helen Twelvetrees and Shirley Temple (Alice Calhoun played Shirley's mother).
She was also a savvy businesswoman. With fellow actor Lon Chaney, and the notorious businessman Mark Hansen, she built a movie theater at 6025 Hollywood Boulevard in 1925 known as the Marcal Theatre, later called the World Theatre. Around that time, she met and married theater owner Max Clarence Chotiner in 1927. (Alice had a very brief first marriage to renowned entertainment attorney Mendel B. Silberberg). Max owned a chain of theaters in California - Chotiner's Ravenna Theatre, the Belmont, the Fox Parisian, the Beverly Hills Wilshire, and the Lomita Theater. Although Alice and Max divorced ten years later amid much publicity and humiliation, they later reconciled. They were remarried in 1948, and remained together until her death in 1966.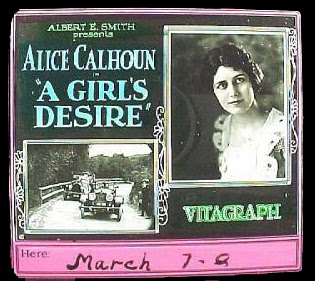 For her contribution to motion pictures, Alice was awarded a star on Hollywood's Walk of Fame in the early 1960's, located at 6815 Hollywood Boulevard. She was also renowned for her patriotic contributions, community service and work on behalf of other aspiring actors, poets and artists. In her later years, she was very active in civic organizations and served as an officer in the American Pen Women Society, the Beverly Hills chapter of the Daughters of the American Revolution and the Democratic party. The women's diagnostic center at Cedars Sinai Hospital in Los Angeles has a plaque that bears her name for her contributions to the institution. Likewise at the City of Hope Hospital, the Alice Calhoun Chotiner Wing is a serene, comfortable waiting area for cancer patient's families. She died of mesotheleoma on June 3, 1966, and rests at the Little Garden of Faithfulness at Forest Lawn Memorial Park in Glendale, California.
The Films of Alice Calhoun
How Could You, Caroline? (1918)
Dream Lady (1918)
Everybody's Business (1919) Released in UK as And He Never Knew (1921)
Bolshevism (1919)
The Thirteenth Chair (1919) Released in France as La Treizieme Chaise (1918)
The Dream (1920)
Human Collateral (1920)
Captain Swift (1920)
The Sea Rider (1920)
Deadline at Eleven (1920)
Princess Jones (1921)
The Charming Deceiver (1921)
Peggy Puts It Over (1921)
Rainbow (1921)
Matrimonial Web (1921)
Closed Doors (1921)
A Bride in Bond (1921)
The Little Minister (1922)
Angel of Crooked Street (1922)
Blue Blood (1922) Released in Argentina as El Conde Apocrifo
The Girl in His Room (1922)
A Girl's Desire (1922)
Little Wildcat (1922) Also released in US as Gamin' Girl and/or Naughty But Nice
One Stolen Night (1923)
Masters of Men (1923)
The Man Next Door (1923)
The Midnight Alarm (1923)
Pioneer Trails (1923) Released in UK as Out West
The Man From Brodney's (1923)
Flowing Gold (1924)
Between Friends (1924)
Code of the Wilderness (1924)
The Everlasting Whisper (1925)
Pampered Youth (1925) Also released in a shorter version as Two To One in 1927
The Happy Warrior (1925)
The Part Time Wife (1925)
The Other Woman's Story (1925)
The Man on the Box (1925)
The Power of the Weak (1926)
A Hero of the Big Snows (1926)
Kentucky Handicap (1926)
(In the) Tentacles of the North (1926)
Flying High (1926
Life in Hollywood #4 aka The Great Hollywood Studios of Yesteryear (documentary) (c 1927)
In the First Degree (1927)
The Trunk Mystery (1927)
The Flag (1927)
Hidden Aces (1927)
The Isle of Forgotten Women (1927)
Savage Passions (1927)
The Down Grade (1927)
Bride of the Desert (1929) (sound)
Now I'll Tell (You) (1934) (sound) Released in UK as When New York Sleeps
--- SUSANN GILBERT
Susann Gilbert an editor and writer living in Charleston, South Carolina who just happens to have been a cousin of Alice Calhoun.  Susann's current projects include a biography of Alice Calhoun entitled Alice in Hollywoodland: The Life and Times of a Silent Screen Star.  She authors the web site Alice Calhoun: Star of the Silent Screen as well as her blog The Writer's Block.
Slide images courtesy of Susann Gilbert.