La Boheme: "Virtually Flawless"
February 7, 2011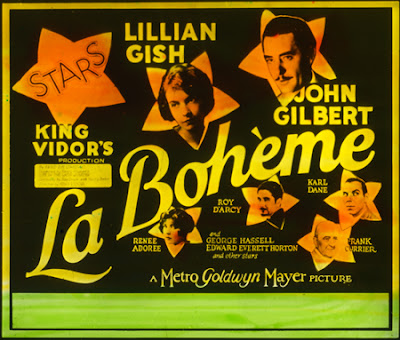 This coming attraction slide for MGM's 1926 La Boheme presents a constellation of stars, unsubtly promoting the picture's all-star cast. Though the starry motif was probably cliché even by 1926 standards, the designer's intent of calling attention to the production's high-wattage star power is certainly understandable.
The driving force behind La Boheme was Lillian Gish. Empowered by a contract providing her with significant creative control, she was highly influential in putting the film together. Her ideas for casting the film were clearly influenced by an early pre-release peek at two reels from The Big Parade (1925), after which she requested that King Vidor assume the directorial duties for La Boheme. In addition to snagging The Big Parade's directors, Gish also scooped up the film's leads John Gibert and Renée Adorée, as well as supporting actors Roy D'Arcy and Karl Dane.
MGM's investment in star power paid off handsomely for the studio. The film was not only critically acclaimed, with The New York Times calling it "a production that is virtually flawless," it was also one of their highest grossing releases of the year.
Bay Area audiences will have the opportunity to judge for themselves this Saturday at the San Francisco Silent Film Festival Winter Event at the Castro Theatre.  Accompanied by Dennis James on the Mighty Wurlitzer, La Boheme plays as the showcase evening performance of this sixth annual mini-festival.