Lon Chaney Gets Slapped Around
December 22, 2010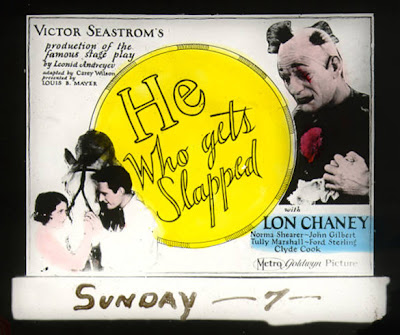 Today we celebrate the 86th anniversary of He Who Gets Slapped, which premiered December 22, 1924. Masterfully directed by Victor Sjöström, the film features a truly all-star cast including: Lon Chaney, Norma Shearer, and John Gilbert.
The opening intertitle sets the tone for all that follows:
"In the grim comedy of life, it has been wisely said that the last laugh is the best."
 "Grim comedy of life" indeed.  He Who Gets Slapped is a standout for any number of reasons but Chaney's heartbreaking performance tops the list.  I won't synopsize the film here, but if you want to know more I suggest that you check out the excellent summary at Classic Film Guide.  Suffice it to say, if it's a tragic clown you're looking for, this is the place to find one.
Slide image courtesy of Cleveland Public Library.