Lupe Velez: The Life and Career of Hollywood's "Mexican Spitfire"
August 10, 2012
It gives me great pleasure to introduce guest contributor Michelle Vogel who recently published the latest in her long line of Hollywood biographies: Lupe Velez: The Life and Career of Hollywood's "Mexican Spitfire."   Labeling Michelle as prolific could be the understatement of the century.  Her earlier works include complete biographies of Olive Thomas, Olive Borden, Gene Tierney, and Marjorie Main in addition to Children of Hollywood: Accounts of Growing Up as the Sons and Daughters of Stars.  Today Michelle provides a tantalizing preview of what you'll find between the covers of her latest achievement.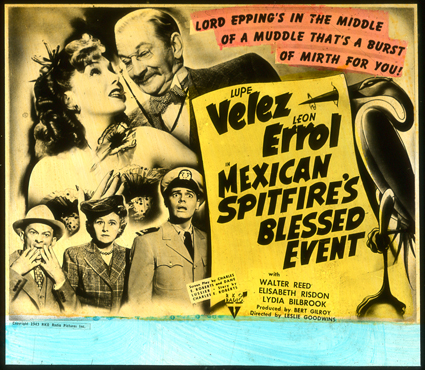 Lupe Velez did not die with her head in the toilet bowl!
Unfortunately, the untimely end of "The Mexican Spitfire", as she was known, is part of one of Hollywood's biggest myths, yet, the story of her dying on the floor of her bathroom as she vomited her excessive pill intake into her toilet, has crossed from myth to truth.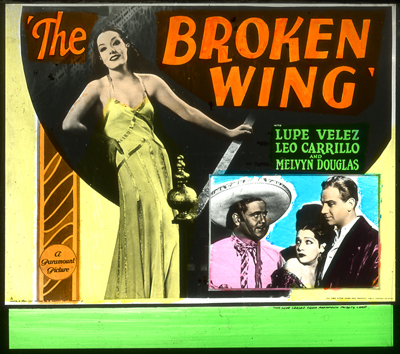 The release of my latest book, Lupe Velez: The Life and Career of Hollywood's "Mexican Spitfire" sets the record straight. During my one-year of research and two years of writing, I uncovered the truth, not only about her death, but about her life, too. There was a massive pile of lies to sort through first, and it wasn't easy, but with the help of Lupe's second cousin, the right jigsaw pieces came together and the parts that didn't fit within the puzzle were tossed to the side, where I hope they'll stay – forever!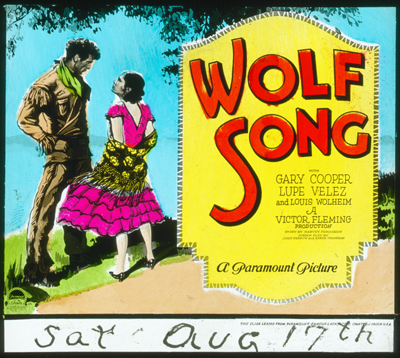 Lupe Velez wasn't just an actress, she was a personality! She was no angel, and she often called herself "a devil," but there were no evil intentions about her. Quite the contrary, she was kind, generous and loyal. Her off-screen persona was just as exciting as any character she played. The newspapers loved her, and her romances were the talk of tinseltown, and beyond.
A long term, tumultuous relationship with Gary Cooper ended after several years (they met on the film Wolf Song), and her only marriage to Johnny "Tarzan" Weissmuller was fraught with problems from the very beginning, and the fact that they made it to their fifth wedding anniversary before divorcing, or killing each other, is a miracle!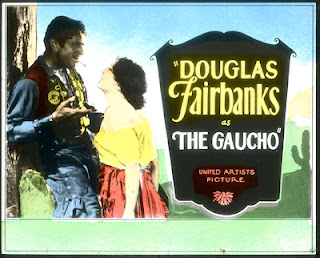 Despite her success in Hollywood, Lupe's life would come to an abrupt end at age thirty-six. During her relationship with actor, Harald Ramond, she got pregnant. As she saw it, there were two ways out of her predicament – marriage…or death! Due to Ramond's reluctance to make an honest woman of her, she chose the latter.
Her suicide note blamed him and when that information came to light, any future career that he may have had in Hollywood was over. Despite the fact that Ramond emphatically claimed that it was all a misunderstanding and that he loved her and he did intend to marry her, it was too little, too late. Lupe Velez was dead, and Harald Ramond was the reason! He returned to Europe and was barely heard from again.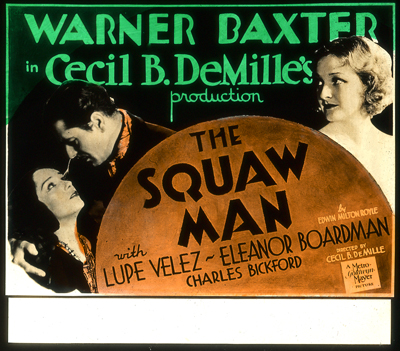 Lupe Velez died in her bed, as she intended. Eighty Seconal pills washed down with a glass of brandy took the life of her unborn child…and herself. Suddenly, the world knew that the woman who didn't care what anyone thought of her or her antics had a breaking point. The shame of an unplanned pregnancy, and out of wedlock, was too much for her to bear.
Her suicide note read:
"To Harald: May God forgive you and forgive me, too; but I prefer to take my life away and our baby's, before I bring him with shame, or killin' [sic] him.
 Lupe."
Unlike many of her peers whose work is lost to time, much of Lupe Velez's work is available on DVD. Not necessarily commercially available, but easily accessible via collectors and websites that deal in classic films. The eight-film "Mexican Spitfire" series is a great start for anyone unfamiliar with her work. Perfect for the entire family, the entire set is available from TCM and WBShop for less than $40. An absolute bargain!
--- MICHELLE VOGEL
Michelle Vogel is a Hollywood historian and the author of a number of non-fiction books relating to the stars of silent and classic films. Her in-depth research allows her readers to see her subjects as the real people who existed in the "reel" world, the world of Hollywood make-believe. Her blog can be viewed on Wordpress and ordering information for her earlier works on Olive Thomas, Gene Tierny, and others are available from McFarland.
Slide image for Wolf Song courtesy of Jessica Rosner.
All other slide images courtesy of Matt and Michelle Vogel.