Mary Pickford's "worst film ever made"
November 8, 2010
The year 1913 was the first in which lantern slides were used to advertise motion picture coming attractions. One year following that, Mary Pickford appeared in the 1914 film A Good Little Devil, a production which the actress described as "one of the worst pictures, if not the worst picture, I ever made."
Recently I was fortunate enough to locate a lantern slide advertising this title which, as is often the case, echoes the imagery of the advertising poster. Even more fortunate than finding the slide was my good luck in having Charles Morrow agree to share his impressions of the film which survives today only as a 12-minute fragment.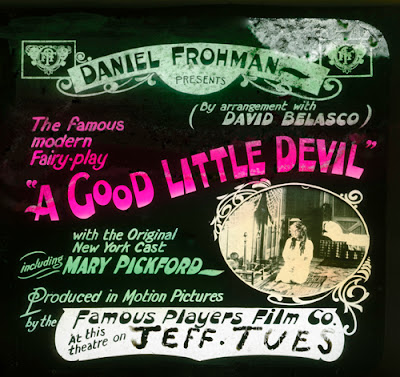 Mary Pickford began her career as a touring stage actress at the age of seven, and was still only fifteen when she made her Broadway debut in 1907 in a play called The Warrens of Virginia. A couple of years later she found work in the movies for director D.W. Griffith at Biograph and soon became a prominent member of his company. By 1913 she'd appeared in well over 150 short films for Griffith and others; at that point she chose to return to the stage in the role of a blind girl in a rather strange vehicle entitled A Good Little Devil.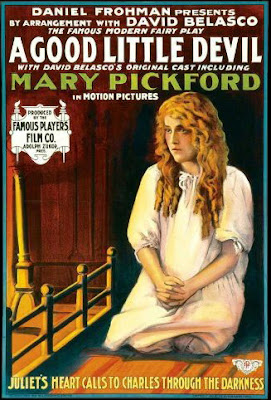 This play was a melodrama with elements of mysticism and the supernatural, probably influenced by the great success of such fantasies as Peter Pan. The play's producer was the famous showman David Belasco, whose name was more familiar to the general public at the time than either Pickford's or Griffith's. (And in a small supporting role in this show, making her own Broadway debut, was the still-unknown Lillian Gish!) Not long after the play ended its run in May of 1913 Miss Pickford repeated her role of Juliet the blind girl in a film adaptation of the play, the first feature-length movie of her career, although not the first to be released. The director was yet another notable figure, Edwin S. Porter, who made a number of landmark films in the first decade of the 20th century including The Great Train Robbery. However, by this stage of his career Porter was no longer an innovator, and his films looked old-fashioned and stodgy compared to Griffith's dynamic work. Pickford felt that Porter mishandled A Good Little Devil, and within a few years of the movie's release proclaimed it "one of the worst pictures, if not the worst picture, I ever made."
Several years ago The Museum of the Moving Image in Queens, New York, hosted a festival of restored films featuring Mary Pickford. The 12-minute fragment of A Good Little Devil shown at the festival is apparently all that remains of this intriguing milestone of theatrical and cinematic history. When the full version premiered in March of 1914 it began with a prologue featuring David Belasco himself introducing the show, but unfortunately this footage no longer survives. Interestingly, however, the fragment that remains tells a reasonably complete story in itself, as if someone edited the full-length film into a one-reel 'highlights' version. The plot and character relationships are not entirely clear, but the gist of the piece comes across.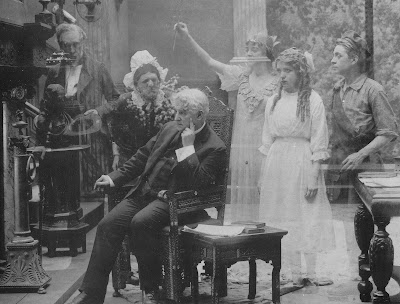 The story concerns a young man of Scottish background named Charles MacLance, who is apparently the victim of pride and a swelled head: he no longer associates with his family, boyhood friends, or the down-home folk from his village, but instead dresses like a titled Englishman and hangs out with haughty aristocrats. Meanwhile, he is missed by his desperately sick mother -- played by a man in drag! -- and his true love Juliet, a blind girl who cares for the old woman. As Charles sits brooding before the fireplace his "conscience" appears in visible albeit ghostly form, when his younger self, wearing a kilt, rises from his body and confronts his corporeal self. Wracked with guilt he returns to his village, visits the old lady and has an awkward reunion with Juliet. He is also greeted joyfully by the family dog-- played by a man capering about on all fours in a dog costume. Charles' return to the village seems to unleash magical spirits: winged fairies appear and restore Juliet's sight, then restore the old lady to full health. (In the stage production Lillian Gish played one of the fairies, but she's not in the movie.) When Charles' snobby friends come to take him away he renounces them, in fiery words of amusingly purple prose, and chooses to stay with the simple, honest villagers of his youth.
The abridged version of A Good Little Devil shown at the festival was greeted by the audience with sympathetic chuckles. I could see why Mary Pickford considered it something of an embarrassment: she was making more sophisticated films than this one at Biograph years earlier. Still, although it was very primitive the movie was rather sweet and Mary's own performance was nothing to be ashamed of. The man in the dog outfit was a real crowd-pleaser, though we all wondered why the old lady was played by an obvious transvestite. In any event, even in its truncated form Edwin S. Porter's A Good Little Devil is an intriguing curio for silent film buffs and kind of a hoot, besides.
--- CHARLES MORROW
Charles Morrow works at the Performing Arts Library at Lincoln Center in NYC. He has written plays and film-related essays, and also contributed several entries to the recently published Broadway: An Encyclopedia of Theater and American Culture. His film reviews appear in IMDb under the Nom de Internet wmorrow59.