Mother, I Need You!
May 8, 2011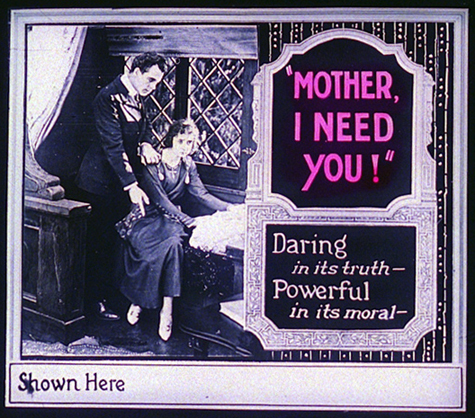 Today's featured advertisement is the content-starved slide for Mother, I Need You! (1918), a promotional slide which conveys essentially no information beyond the film title. No stars, no studio, no director, producer, or distributor. Presumably it is a melodrama, but what in its "truth" could be so daring? What is it about its "moral" that is so powerful?
I've poked around in search of additional background on the film, but have met little success in determining the storyline of this daringly truthful melodrama, nor have I been able to confirm the name of the production company. Most online sources reveal a brief cast list, but none include character names or other production details of this presumably lost film.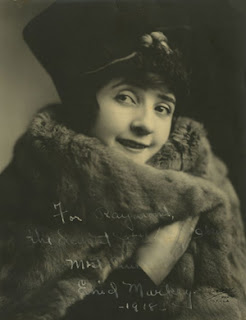 After doing a little research based on coincident film work of the four cast members (Enid Markey, Edward Coxen, G. Raymond Nye, and Clarissa Selwynne) I will go out on a limb and guess that the film was produced by the Corona Cinema Company.
During 1918, all four actors worked for a variety of production companies, including: Fox, Universal, Ince, and National Film Corporation, though apparently none were locked into studio conracts. Instead they each hopped between studios, never working for any studio for consecutive productions.
The only solid clue regarding the production company is that all four of the Mother, I Need You! cast also appeared in The Curse of Eve (1917) which was produced by Corona in the same timeframe.
An additional hint comes from the slide itself which fails to include any studio logos or tag lines - a feature any of the larger studios would have been sure to include.
Finally, there is the melodramatic nature of the title which seems congruous to Corona's equally overwrought Curse of Eve. It is possible that all these clues may have led me astray, but if nothing else it still seems safe to say Mother, I Need You! originated from a small and short-lived production company.
Despite the apparent modesty of Mother, I Need You! production values, both both of its unheralded leading "stars" continued on to long and interesting careers. This is especially true for Enid Markey who that same year would appear opposite Elmo Lincoln as Jane Porter in Tarzan of the Apes (1918).
Yes! You heard that right! The despondent young lady sitting in the window box above would soon be immortalized on cellulose nitrate as Tarzan's very first "Jane." In fact, Ms. Markey played Jane twice in 1918, again playing opposite Elmo Lincoln in The Romance of Tarzan (1918).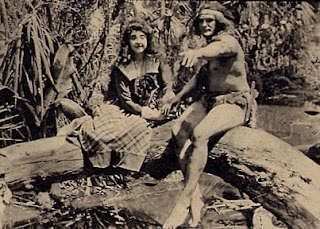 Enid Markey's career came to span six decades. She first appeared on the screen in The Fortunes of War (1911) and played her last role 83 titles later (film and television combined) as the spinster Edna in The Boston Strangler (1968).
Baby boomers may also remember her from The Andy Griffith Show as where she played Barney Fife's landlady, or Gomer Pyle, U.S.M.C. in which she played Grandma Pyle.
Though it would be difficult (if not impossible) to top Edid Markey's career (she was the first Jane after all), the other unnamed actor on our slide, Edward Coxen, didn't do too badly himself. Coxen's first acting experience came in early 1906 in San Francisco on the stage of the Majestic Theatre. His run there was cut short by the devastating earthquake and fire of April 18, 1906 and he ultimately headed south where in 1911 he began appearing in one-reel westerns for Kalem.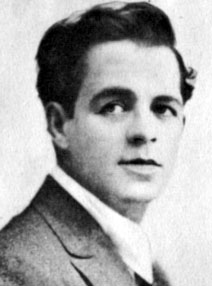 In 1912 he joined the American Film Manufacturing Company's Studio, working as one of a group of actors known as the 'Flying A' stars. The December 1913 issue of The Moving Picture World described him as 'A good looking virile young man, a manly lover, and thoroughly at home on horseback.'
Edward Coxen's career lasted until 1941, though the silent era of was clearly his heyday. Of the 282 titles in which he is credited to have appeared in, 249 came prior to the sound era.
The western genre was very good to Coxen. After all, 282 titles is nothing to sneeze at.
But still, he was no Jane.
...or even Grandma Pyle for that matter.