Not Just the Silent Era
July 21, 2010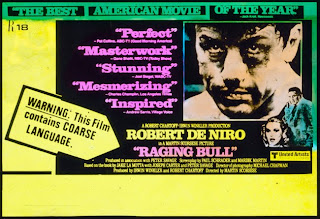 While 1913 is the apparently marks the beginning of when lantern slides were used to advertise coming attractions, it has been significantly more challenging to find the terminus of the practice. In the United States the use of slides, at least in certain venues, continued into the early 1950s while in other countries the practice continued decades longer. By way of example, last month I purchased this Australian slide for Raging Bull (1980) as part of an auction lot of Australian slides from the 1960s, 70s, and 80s. The most recent slide in the collection was Poltergeist (1982) which is the most recent slide I've found from Australia. One thing to note about these Australian slides is that they adhere to the classic lantern slide format, including a blank space in the bottom for the theatre to add the date. They aren't just poster reproductions, the graphic design is specific to the lantern slide medium.
Developing timelines for lantern slide use on a country-by-country basis is one of my research goals. My methodology for compiling this information has been to search for examples as well as to delve into trade magazines and exhibitor manuals to the extent possible. Thus far, I have found evidence that establishes the following bounds for professionally produced coming attraction slides:
Australia: 1942-1982
Canada: 1943-1944
England: 1926-1956
India: 1964-1968
United States: 1913-1952
I am absolutely positive these date ranges will expand as more examples come to the fore. In fact, the only reason I include this information now is to encourage readers (such as yourself) to come forward with examples beyond what I have discovered thus far.