"Peaks of Destiny"
August 23, 2010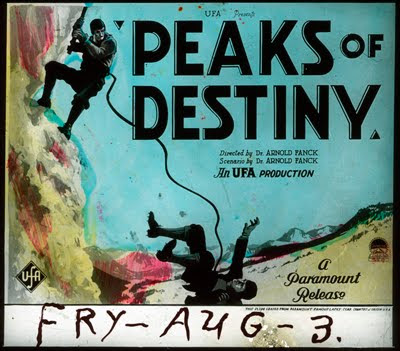 Released in Germany under the title Der Heilige Berg (The Holy Mountain, 1926); Peaks of Destiny made its way to American screens the following year. The film is representative of the uniquely German "mountain film" sub-genre (somewhat analogous to westerns and American cinema). Directed by Arnold Fanck who specialized in these films, Peaks of Destiny is also notable in in that features the screen debut of his most celebrated (and some might say notorious) protegee, Leni Riefenstahl.
In his book Leni Riefenstahl: A Life, Jurgen Trimborn explains:
Der heilige Berg was a typical example of the constellation of Arnold Fanck's mountain epics: the male bonding of the mountain climbers triumphs over temporary temptation by a female. ...Riefenstahl plays Diotima, a ballet dancer whose life is entirely devoted to dance and to the mountains, and whose character in the film is the very personification of threatening femininity."
"Diotima dances on the stage of the Grand Hotel in Zermatt, where she captures the attention of two particular members of the audience. The two men, skiers and mountain climbers [...] are soon vying for her affection, and the film develops into a tale of jealousy that ends in the deaths of both men in the mountains. Following a bitter struggle over the woman, they plunge in the abyss, after which Diomita leaves the Alps and returns, alone and broken, to the sea."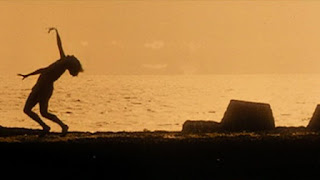 The film premiered December 1926 at Ufa's Palast am Zoo, the company's flagship theatre in Berlin. The professional reviews were mixed; Vienna's Wiener Neuweste Nachrichten proclaimed that Reiefenstahl was "one of the world's greatest screen actresses," while the Berliner Morgenpost countered that she "...offered nothing in the way of acting" and that "her jumping around is, in places, hard to bear."
Regardless of the critical response, the film was exceptionally popular and was the first international success of Fanck's career. Capitalizing on this acclaim, Riefenstahl would go on to play the lead in Fanck's subsequent mountain epics: Der große Sprung (1927), White Hell of Pitz Palu (1929), Avalanche (1930), and White Ecstasy (1931).