Play Ball with Doraldina!
November 13, 2011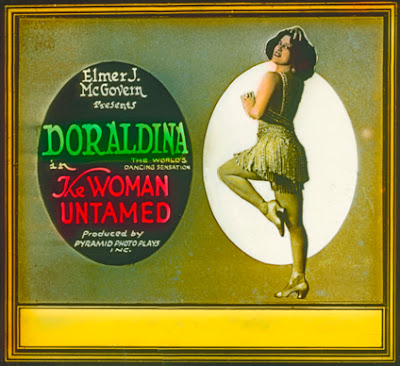 The wonderful, the fabulous, the exotic DORALDINA! Born in 1888, San Franciso native, Doraldina (nee Dora Sanders) found fame performing the hula on the stage in The Road to Mandalay and Frivolities of 1920. Publicized in today's featured slide as "The World's Dancing Sensation," Doraldina wrote, produced, and starred in The Woman Untamed a melodrama featuring herself as a lovely castaway believed to be a goddess by the local natives. The feature led to a contract with Metro, with whom she starred in Passion Fruit (1921) which was filmed on location at Monterey, CA. In Passion Fruit Doraldina starred as the daughter of a South Seas plantation owner desired by a ruthless overseer.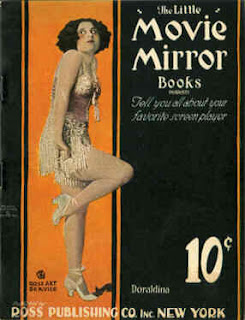 According to Who's Who on the Screen (1920),
"Doraldina, one of the newest of Metro stars, though given a splendid opportunity to display her histrionic talents as an actress, will, nevertheless, retain in her pictures the familiar Hawaiian setting with which her legion of admirers have come to associate her. Beginning her career as a manicurist in a San Francisco hotel, Doraldina's rise to fame and stardom comes as a fitting climax to a career during which she put forth every effort to please a discriminating public. Studying the dancing art first in New York, and then in Barcelona, Spain, she returned to New York where her career an dancer, actress, and screen star made of her a national figure. Her first Metro production is "Passion Fruit."
"Histrionic talents" indeed.

The AFI Catalog credits Doraldina with three screen roles:
The Naulahka (1918) in which she plays Sitahbai, an exotic dancer from India.
The Woman Untamed (1920) which (unsurprisingly) contained many scenes of her performing.
Passion Fruit (1921) in which includes no mention of dancing in the synopsis.
While it is not clear whether any of Doraldina's features have survived, her motion picture legacy has not been completely obliterated - at least as far as sports fans are concerned.
On April 2, 1918 she was the featured attraction at the 1918 opening day celebration for the Oakland Oaks baseball team of the Pacific Coast League.  The Oaks opened their home season against the cross-bay rival San Francisco Seals and Doraldina threw out the ceremonial first pitch for the game.
As you can see, she was the hit of the day.
Play Ball!