Scouring The Continent
July 30, 2010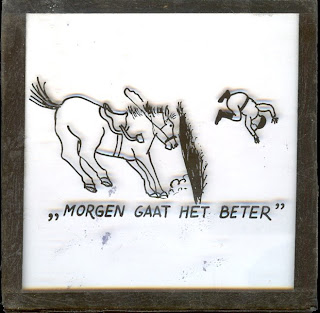 In what countries were coming attractions slides commonly used? Answering this question is a major aspect of my research. Thus far I have seen or acquired examples from Australia, Canada, England, India, and the United States.
Though admittedly my search is still in its early stages, I have been quite surprised not to have found examples in European countries (UK excepted). Based on their rich cinema traditions, I had high expectations of at least finding French, German, and Italian slides, but so far I have come up empty.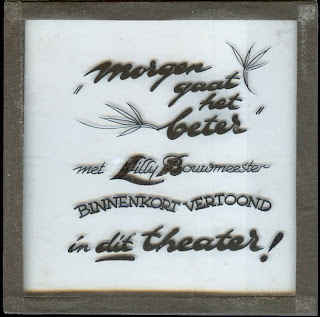 The only exception thus far is are two handmade slides in the collection at Netherlands Filmmuseum (recently renamed EYE Film Instituut Nederland.) These two slides herald the upcoming 1939 Dutch film Morgen Gaat Het Beter (Tomorrow It Will Be Better) produced by Neerlandia.
As you can see, one of the slides features a drawing of a man being thrown from a horse (which presumably has something to do with the plot), while the second slide explains in text that the film stars Lilly Bowmeester and that it's coming soon to this theatre.
Were professionally produced coming attraction slides used in Europe? Surely there must have been. My quest? Find them!