Sliding Down Under
August 7, 2010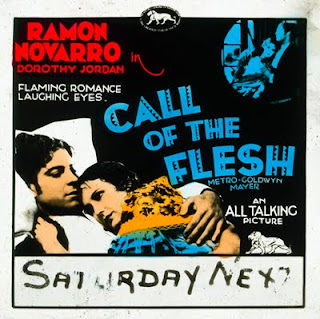 I am continually on the hunt to discover new (to me) geographies and time frames where lantern slides were used to advertise coming attractions. Most recently I was able to locate a number of Australian slides dating back to 1930.
Prior to this "discovery," 1942 was the earliest example I had been able to locate. The full date range I have established for Australian slides now begins with Call of the Flesh (1930) and ends with Poltergeist (1982). Of course I fully anticipate (and fervently hope) that this range will expand as new examples come to my attention.
I am especially keen to find examples from the silent era but for now all I've found are "talkies."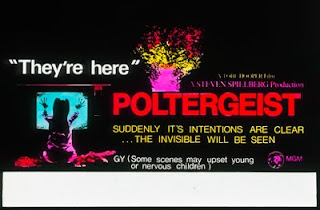 Starring Ramon Novarro and Dorthy Jordan, Call of the Flesh was released by MGM in 1930 and though synchronized sound pictures had been around for a couple of years, the slide emphasizes that the film is "an all talking picture."
While Call of the Flesh is the earliest example I have found, my favorite is The Bitter Tea of General Yen (1933). I love the graphics, I love the color, and Barbara Stanwyck? Well, no wonder the censor's mark on the slide advises that the film is "Not Suitable for General Exhibition."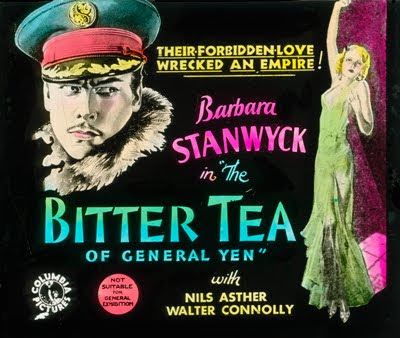 Like their British counterparts, Australian slides measure a 3 ¼ inch square which is usually reflected with a square graphic design. The graphic designs for the later years seem to universally take on a horizontal orientation, probably to take advantage of modern wide screens, even though the physical slide itself retains the standard dimension.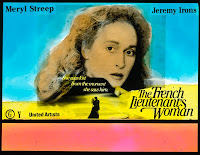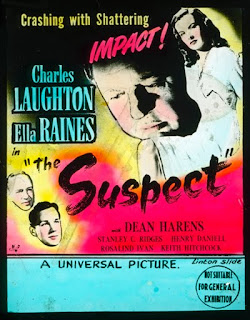 Of all the Australian slides I have located thus far, only one (Man in the Trunk, 1942) uses the cardboard frame design. In one respect this only mildly interesting, but the cardboard frame designs often have the advantage that they manufacturers information can also be found printed on the frame. In the case of all the other Australian slides there are few clues as to where the slides themselves originated. The only lead thus far can be found with The Suspect (1942), wherein the attribution "Linton slide" is printed directly on the image above the censor's advisory.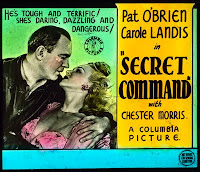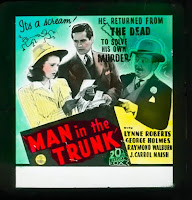 Finally, it is interesting to note that all of the slides I have located exclusively promote Hollywood pictures. Were slides created to promote Australian films? So far that is a question that remains unanswered - for now.