Special Feature: Thanhouser Picture
August 18, 2011
It is my great pleasure to introduce guest contributor, Ned Thanhouser. When it comes to the family of silent film enthusiasts, you can't get any closer than Ned, who just happens to be the grandson of silent film pioneers Gertrude and Edwin Thanhouser. Ned also the is founder of the Thanhouser Film Preservation Trust at the Library of Congress and president of Thanhouser Company Film Preservation, Inc. Fittingly enough, Ned's article focuses on the glass slides used to promote Thanhouser features - as well as more than a little history of the Thanhouser Company itself.
Thank you Ned - now take it away...
On March 10, 1911 the Thanhouser Company, one of the pioneering independent motion picture studios based in New Rochelle, New York, released its 104th film, a one-reeler titled The Spirit Hand. The studio provided distributors with a "generic" glass lantern slide titled "Special Feature: Thanhouser Picture" that included an open window for exhibitors to add specifics for coming attractions. One of these surviving slides was marked by the exhibitor with a grease pen declaring "Mon. and Tues. 'The Spirit Hand' One Great Picture." This was probably referring to the Monday and Tuesday March 13 and 14 which followed the regular Friday release of this Thanhouser film. A review in The Morning Telegraph on Sunday, March 12, 1911 supported the exhibitor's claim: "Congratulations! A novel theme, dramatically put on, entertainingly told."
The brains behind Thanhouser's marketing and advertising campaign, including this very early example of a "Coming Attractions" glass lantern slide, was Bertram Adler. He was publicity director for Thanhouser starting in 1909 and remained with the company through its acquisition by Mutual in 1912 until his departure to Universal in the autumn of 1914. During the early and most successful years of the firm, Bert Adler created advertising and newsletters, prepared publicity releases, conducted interviews, and otherwise contributed to the public image of the company. By the time of his departure, "Coming Attractions" slides were a key element of the Thanhouser marketing package along with lithograph posters, collector postcards and other related ephemera. Mrs. Van Ruyter's Stratagem (Nov. 24, 1914) is an excellent example showing a fully realized "Coming Attractions" glass lantern slide from Mutual's Thanhouser Film Corporation. Not only does this slide call out the film by title (vs. the exhibitor adding with a grease pen this critical information to the generic slide of 1911), it also included an image from this two-reel "feature" plus it named the stars of the film (Harry Benham and Muriel Ostriche) to keep in step with the audience's growing interest in the "stars."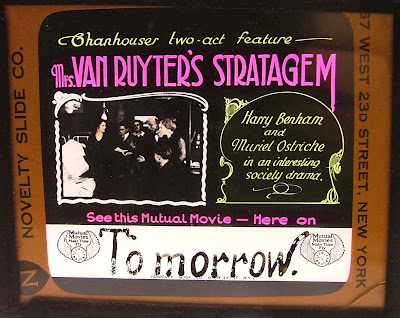 In June 1914, the Thanhouser Syndicate Film Corporation released its first episode of The Million Dollar Mystery. The brainchild of Charles J. Hite, president of Mutual's Thanhouser Film Corporation, and chief scenariest Lloyd F. Lonergan, it tells the story of the sudden disappearance of an heiress, played by popular Thanhouser star Florence LaBadie, and her thrilling adventures. Wildly successful, it earned the company over a million dollars. This cliffhanger serial consisted of 23 two-reel episodes that tapped into the growing interest in serials made popular by The Perils of Pauline. A glass slide was acquired from a collector in the UK used to popularize the serial with the claim of "Nine Miles of Love, Mystery, Thrills, and Adventure." Doing some simple math (2 reels/episode * 1,000 feet/reel * 23 episodes) yields approximately Nine Miles of 35mm film – a clever marketing ploy for a thinking man's audience!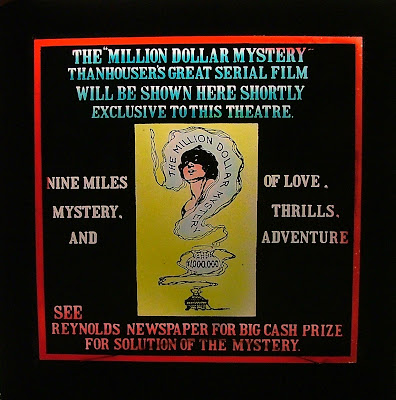 After the tragic and untimely death of Thanhouser president Charles Hite in the summer of 1914, Edwin and Gertrude Thanhouser were hired by Mutual in early 1915 to resume leadership of the studio they founded six years earlier. The industry was experiencing monumental change as films matured from one-reel "shorts" to multi-reel "features." But, in the summer of 1916, upheaval at Mutual resulted in Thanhouser being ejected from the Mutual distribution program. With over a year left on his Mutual contract, Edwin Thanhouser quickly reached an agreement with Pathé Exchange to distribute Thanhouser produced films. He retired the Thanhouser brand and down-sized the studio to produce only multi-reel feature films to be distributed under the "Pathé Gold Rooster Play" logo. Thanhouser's most durable and recognizable star, Florence LaBade, was promoted with top-line billing as shown in the glass slide for the 1917 five-reel feature Her Life and His. Her heartbreaking death at age 29 from an automobile accident in October 1917 robbed Thanhouser of one of the last vestiges of the studio's public appeal; her death hastened the studio's exit from the industry later that year.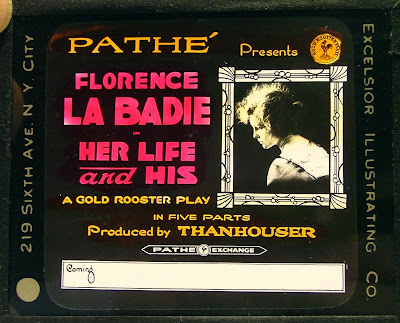 It is my hope that this selection of "Coming Attractions" glass slides gives you a glimpse into the rich history of the Thanhouser film enterprise. Between 1910 and 1917, the studio released 1,086 films to worldwide distribution, but its history is relatively unknown as there was no central repository for its motion pictures, company records or marketing collateral. Fortunately, many of the artifacts that were scattered across the globe ended up in the hands of archives and private collectors who saved them for us to enjoy today. Starting in 1985, I undertook the task of reconstructing the Thanhouser studio history by locating, identifying, and cataloguing Thanhouser films and ephemera. As of today, 223 Thanhouser productions have been located in archives and private collections around the world, and 56 of films are now available for immediate viewing online for free or purchase on DVD. In addition to these films, hundreds of marketing ephemera (posters, glass slides, post cards, production stills, sheet music, pin backs, heralds, advertisements, etc.) have also been acquired and made available for research and study. To learn more about the history and contributions of this pioneering silent motion picture studio, please visit www.thanhouser.org and become a "fan" on Facebook at www.facebook.com/thanhouser.
-- Edwin W. ("Ned") Thanhouser
Edwin W. ("Ned") Thanhouser is the grandson of silent film pioneers Gertrude and Edwin Thanhouser and is president of Thanhouser Company Film Preservation, Inc., a 501(c)(3) non-profit corporation. Working with film archives and private collectors, Mr. Thanhouser has produced twelve DVD titles that contain 56 surviving Thanhouser films not seen by the public for over 100 years. These films are now available for free viewing online for researchers, scholars and film lovers at www.thanhouser.org.
Mr. Thanhouser has been active in film preservation since 1986. With his family, he established in 1988 the Thanhouser Film Preservation Trust at the Library of Congress for the acquisition and preservation of nitrate-based Thanhouser films. He is a member of the Association of Moving Images Archivist (AMIA) and in October this year he will be celebrating a Tribute to the Thanhouser film enterprise at the Pordenone Silent Film Festival.