Take Flight with "Dirigible"
August 28, 2010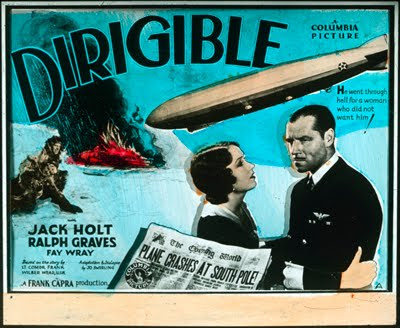 Budgeted at $650,000, Dirigible (1931) was Columbia's most expensive production to date. According to Joseph McBride, "making Dirigible was Harry Cohn's attempt to put Columbia on an equal footing with the major studios." Frank Capra directed the production, which paired Ralph Graves and Jack Holt, who had earlier co-starred in Capra's successful early-talkie Submarine (1928). I had the great pleasure of seeing Sony's new restorations of both films at the 2009 Il Cinema Ritrovato in Bologna, and while the Capra's cinematography is gorgeous, and the documentary aspects of lighter-than-air travel are first rate, the inane plot and wooden acting by the principals leave much to be desired.
Fortunately, this isn't a movie review. We're here to talk about coming attraction slides and this one is a beauty. Of course I'm a sucker for aviation themes, but this slide for Dirigible is especially well composed. It's also quite reminiscent of the slide for Howard Hughes Hell's Angels (1930) [discussed on July 21] which had been released the previous year. Both slides graphically combine the primary plot elements of dirigibles and women (take it away Mr. Freud!) with just a splash of red flame to (literally) spark to the mixture.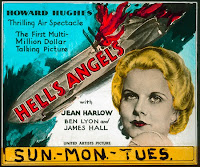 As Lisa Kernan points out in her book Coming Attractions: Reading American Movie Trailers, movie trailers were combined diverse themes in order to attract different audience segments.  Unlike movie trailers which do this by including different clips from the film, slides achieve the same effect through graphic collage.  The slide for Dirigible employs the technique by including action scenes (something for the men) as well as the romantic element (something for the women).
Within its single frame the slide also conveys a fairly comprehensive plot summary. The newspaper headline tells us about a plane crash at the South Pole (a very topical subject, coming only two years after Admiral Richard E. Byrd first flew over the pole), there are injured men in parkas, a burning dirigible on the ice, Fay Wray imploring the lantern-jawed Jack Holt, and of course the text "He went through hell for a woman who did not want him!" There's so much of the plot in the slide that you don't really need to see the film.
But do see it anyway - the photography is wonderful.