The Last Raid of the Zeppelin L-21
October 12, 2010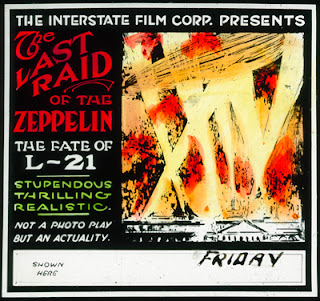 This striking slide from the Commercial Slide & Film Service advertises the 1918 two-reel documentary The Last Raid of the Zeppelin L-21.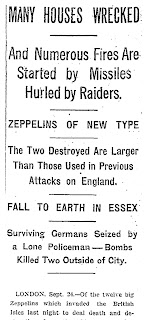 The History
During WWI the German Navy airship L-21 is credited with carrying out a number of bombing raids and reconnaissance missions over England. On the September 16, 1916 it participated in the largest airship raid of the war consisting of 16 German zeppelins during which the airship SL-11 was shot down, the first airship to be downed over the British mainland.
Soon thereafter the L-21 met its own fate. Following a bombing raid on November 27, 1916 it was was intercepted over the North Sea by three Royal Navy Air Service planes and shot down in flames.
For further reading, Tom Morgan offers a vivid accounting in his article:  The Great Zeppelin Raid.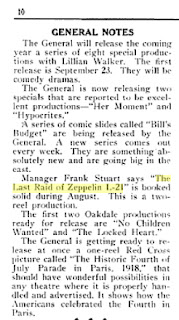 The Film and Its Promotion
Though the slide promises the film to be "stupendous, thrilling, realistic" it does not necessarily promise journalistic authenticity. According to modern reviewer Hal Erickson, "most of the footage was cribbed from earlier newsreels, with a handful of studio re-creations." Erickson continues, "The film at least offered some close-ups of Flight Lieutenant W.L. Robinson, the man responsible for blasting Zeppelin L-21 out of the skies. For its American release, the film included a prologue featuring Secretary of War Newton Baker."
The film is reputed to have been popularly received at the time of it's release, with the Michigan Film Review of August 16, 1918 reporting a month of solid bookings for the "documentary."