The Lost Battalion
October 14, 2010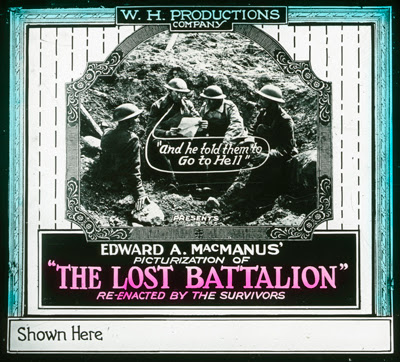 The "Lost Battalion" is the name given to nine units of the United States 77th Division, roughly 554 men, who became isolated by German forces during World War I after an American attack in the Argonne Forest in October 1918. The division had quickly advanced into the Argonne under the mistaken belief that their flanks were supported by advancing French and American units. Instead they advanced beyond the rest of the allied line and found themselves completely cut off and surrounded by German forces. For six days the division fought off multiple attacks by the Germans. Of the over five hundred soldiers that entered the Argonne Forest, only 194 were able to walk out unscathed. The rest were killed, missing, captured, or wounded.
In his book Finding the Lost Battalion: Beyond the Rumors, Myths and Legends of America, Robert Laplander describes how the story of what became known as the "lost battalion" was in fact the confluence of two separate events, combined and dramatized in a November 16, 1918 article in Collier's Magazine.  More than any other, the Collier's article fired public imagination and rapidly became the accepted version of the action at Charlevaux Ravine.  According to Laplander, the confused story continued to hold public sway despite the publication of contrary accounts accurately conveying the actual sequence of events. 
Though the popular press led the way in mythologizing the story of the Lost Battalion, Laplander credits the 1919 film with permanently muddying the waters of popular understanding:
"Early in 1919, the McManus Film Corporation began shooting a movie in cooperation with the U.S. Army Signal Corps about the Los Battalion, which was ultimately released to the general public in early 1921 as The Lost Battalion. (It was used extensively before that with veterans groups and was originally released in the fall of 1919.)"
According to Robert Laplander:
"The most fascinating thing about the film is that parts of it were actually shot in France, there in the Pocket where it all happened, and in it several of the men that had been in both entrapments played themselves [...] The story line to the film was itself a combination of the two entrapments, and this served to further cement the incorrect story in the public mind and build upon the legend and myths already beginning to spring up around the episode, as the flick was very well received by the public. (Most Lost Battalion men themselves however dismissed the film as "ridiculous" which, in large part, it is.)"
Regardless of its historical veracity (or lack thereof) the film was popularly received and its account of the events accepted as factual. This may have been due in no small part to the fact that many of the lead parts in "re-enactment" are played by men who survived the action:
Robert Alexander ... Himself (as Major General Robert Alexander)
George G. McMurtry ... Himself (as Major George G. McMurtry)
Charles W. Whittlesey ... Himself (as Lt. Col. Charles W. Whittlesey)
William J. Cullen ... Himself (as Captain William J. Cullen)
Arthur F. McKeogh ... Himself - Adjutant to Col. Whittlesey (as Lt. Arthur F. McKeogh)
Augustus Kaiser ... Himself (as Lt. Augustus Kaiser)
Jack Hershkowitz ... Himself (as Private Jack Hershkowitz)
Philip Cepaglia ... Himself (as Corporal Philip Cepaglia)
Herman J. Bergasse ... Himself (as Sergeant Herman J. Bergasse)
J.J. Munson ... Himself (as Private J.J. Munson)