Twin Bill Excitement!
March 15, 2011
Tuesday and Wednesday only! Thrill to this exciting pre-war double feature! We're pulling out all the stops and advertising this double-bill with double-promotion!
See the slide - Then watch the trailer!
Tear Gas Squad (1940)
Are they serious? You decide. You'll certainly get no clues from the advertising. Features Dennis Morgan as a former cabaret singer who becomes police cadet to impress a girl from a police family. Tear Gas Squad is virtually a musical - good luck figuring that out from the slide!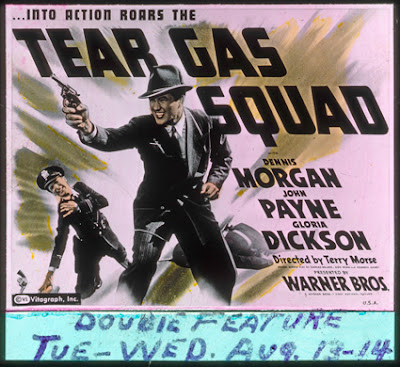 Nick Carter, Master Detective (1939)
Starring Walter Pidgeon in the title role Detective Nick Carter. You've heard him on the radio, now see him in real life as he battle spies and woos the alluring Rita Johnson. Featuring Donald Meek as the unforgettable "Bartholomew the Bee Man."