Women in Bondage!
July 24, 2010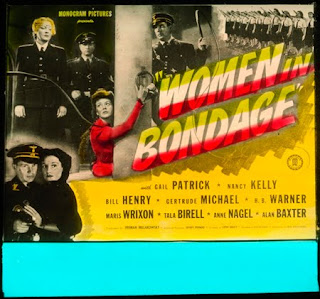 And now for something completely different... Wartime slides from the Charles Potter company of Toronto, Canada. The films promoted by these three slides are considerably different even though the promotional strategies and graphic designs are virtually identical.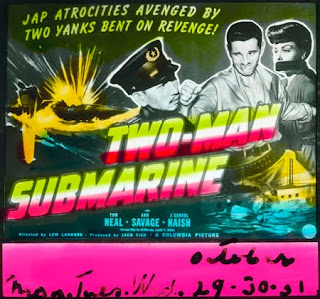 Women in Bondage (Mongram, 1943) focuses on the subjugation of Germany's women during the Third Reich which (naturally) includes their duty to produce strong Aryan children for The Fatherland. The slide for Women in Bondage (try Googling that if you want an eye full) lacks the inflammatory written text featured in the next two slides, but who needs it when you have graphics that include a woman in a red dress chained to a post and an SS officer with a whip?
Two-Man Submarine (Columbia, 1944) is a low-budget wartime spy thriller revolving around a secret drug and a remote South Pacific island behind Japanese lines. At a time when the war in the Pacific still raged, the slide graphics make for wonderful propaganda with the battling hero (Tom Neal) punching out a Japanese soldier while the text shouts out "JAP ATROCITIES AVENGED BY TWO YANKS BENT ON REVENGE." Given a graphic design that includes an exploding submarine, floating wreckage, and a bound and gagged Ann Savage, clearly those yanks have the right to be fighting mad.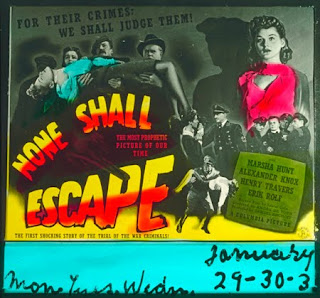 Featuring graphics that include Nazi officers, a defiant woman (once again in a red dress), and two (two!) prostrate women-in-arms, None Shall Escape (Columbia, 1944) transports us to a post war trail where Nazi criminals face justice ("FOR THEIR CRIMES: WE SHALL JUDGE THEM!) for their atrocities which are reviewed in flashback. By most reviews None Shall Escape was well regarded (much more than the other two) with Alexander Knox in particular singled out for his portrayal of Nazi brutality. One surprising aspect of the film is that it addresses the true nature of German concentration camps a year before the fall of Berlin, and predicted that Nazi perpetrators would be tried in a Nuremburg-like tribunal two years before the trials eventually convened.
While wartime slides typically go sensationally over-the-top, these slides from Charles Potter display their own distinctive graphic style. Each features a photo-montage of critical elements, the most prominent of which being bound women or women in peril (with obvious and undeniable subtext). The typographical design elements are also consistent, with diagonal film titles in two or three-color block letters proximately associated with wonderfully sensational rhetoric. These elements, in combination with a consistent color palate, make make the Potter slides easy to distinguish from other manufacturers of the period.
Regardless of the films promoted, these wartime slides stand on their own as delightfully graphic propaganda pieces. Women in chains! Nazis with whips! "Jap Atrocities!" Shocking Stories! Even if patrons never returned to see the advertised film, audiences viewing these slides undoubtedly got the message.